Our Caribbean cruise destinations are divided into two posts. This post is mainly about Philipsburg, Sint Maarten. Part 2 is about Puerto Rico and Bahamas.
Evening show in outdoor cinema, in Caribbean. Don't let imagination fool you. If you can almost feel nice and warm breeze and ideal weather, I have to stop you right there. It was more like a Finnish summer night by the lake – cold and rainy. To get through two hours of outdoor movie watching, you need to have woolen set of clothes from head to toe. Only one did not pack these kinds of outfits to Caribbean cruise. So I emptied my backpack and wore everything I had in there to keep me warm. Anything with long sleeves or hood was good. Also scarf and woolen socks were particularly handy. Didn't really feel the Caribbean atmosphere right then and there.
How about day trips?
First one to go was Sint Maarten. Cruise ship docked nice and early, and passengers started to disembark smoothly. It turned out there's always a group of passengers who rather stay on board than visit new ports and cities. Funny how that is.
It took us about 15 minutes to walk to downtown Philipsburg, which by the way is located right next to the ocean. There's also water taxis' cruising between harbor and downtown. It costs $5 for one per direction and takes 2-3 minutes.
I wouldn't recommend staying at the beach boulevard, since everything costs, even beach chairs. Also when there's a turist, there's a dealer. So we took a cab to take us to Maho Beach. It cost $20 per direction, but if you are lucky, you might just end up with a driver who's all in one: cab driver, turist guide and a comedian. We were lucky to have a driver who knew all about Philipsburg and were glad to share it with us.
Also be prepared: there can be a bit of a traffic, so it takes easily 45 minutes to get to Maho Beach, and cruise ships aren't gonna wait for no-one. And if you wan't to keep an eye on your budget, bus is only $2 / direction.
If you hurry, it's possible to go and see the French side of the island, too, but we wanted to take it slow so we ended up staying only in the Netherlands side. We didn't book any organized day trips but decided to waddle here and there with our own pace, and it turned out to be a good decision.
Maho Beach, famous for airplanes nearly touching the beach and sunbathers when landing to Princess Juliana's international airport.
There's planes arriving and departing frequently around noon. There's also a sing telling the exact arrival and departure times, but that side of the beach is more crowded. I didn't feel bothered by other turists, that's kind of the name of the game. And there were plenty of space to swin in the warm and turquoise water. Even whit salt water drying into my skin and sand invading every inch of my body, I loved it.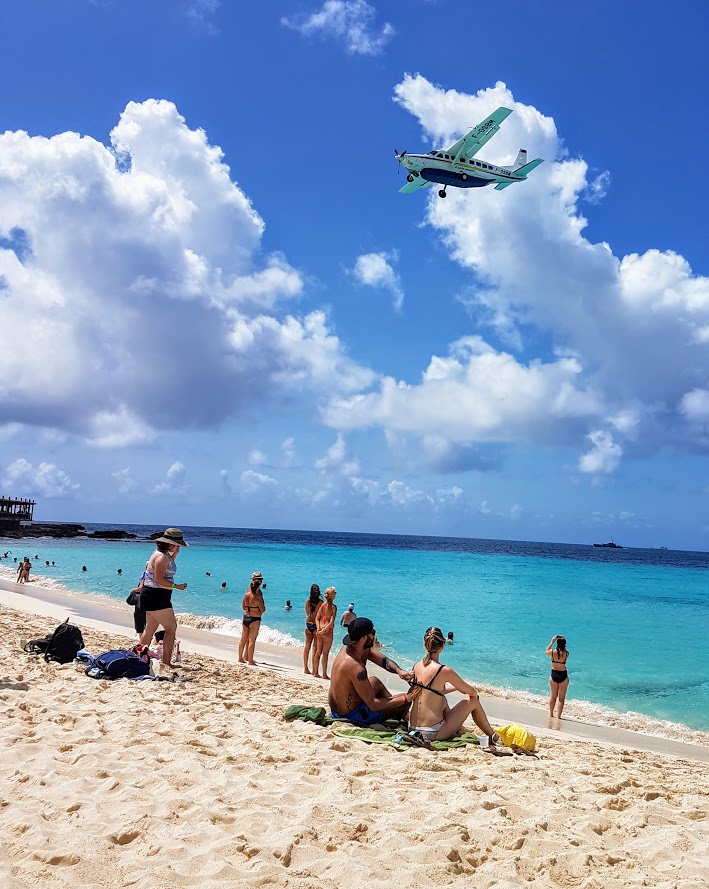 After all the beach life and planes we headed back to downtown. Thanks to the extraordinary cab driver we ended up having the very best cheese burgers ever. Place didn't look like much, but this elderly couple, originally from Africa, were super-friendly and they made their food with huge heart.
Where?
In the middle of Voorstraat St. opposite of a school. Go and taste a piece of heaven.
And here's some Caribbean riot of colors.
All together island of Sint Maarten was colorful and charming during those 8 hours we spent there. Unfortunately French side is to be conquered on another time.
Kokonaisuudessaan Sint Maartenin saari oli letkeä ja viehättävä niiltä osin mitä 8 tunnin aikana ehdimme nähdä. Ranskan puoli saaresta jää jollekulle muulle tutkailtavaksi. Tai ehkä ensi kertaan.